TC CROWN LOGISTICS
Fast and secure delivery. Every time. Everywhere.
Complete transport solutions
Right for your business
Always on the move, always on time
We deliver promptly, not just parcels
Air Freight
We offer fast airfreight services covering the entire freight forwarding process to meet your specific requirements.
Sea Freight
Freight shipping offers a wide range of options to provide you with the best transport solutions regardless of the type of cargo.
Road Freight
Our road freight services can be an excellent solution to reach your destination on time and at an affordable price.
Do you need a quote for
Air Freight
Sea Freight
Road Freight
Full transport services. We deliver promptly, not just parcels.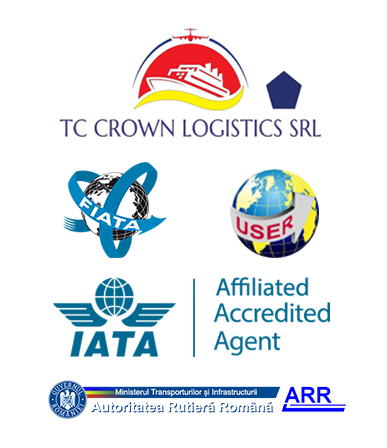 We are a Romanian company specialized in complete logistics services in the field of international air, sea and road transport. We have a vast experience in this field and offer customized solutions for each client, according to their specific needs and requirements.
TC CROWN LOGISTICS is a FIATA, USER and ARR accredited and IATA affiliated company.
We offer services according to FIATA, USER, IATA and ARR regulations.
Our team consists of experienced professionals who are dedicated to providing the best service to our clients. We strive to provide a full range of services, from transportation planning and document management to warehousing, loading and unloading, transportation and final delivery.
Whatever type of transport you need, we are here to help you achieve your goals. We are proud to be trusted partners of our customers and strive to provide the best logistics services in Romania and beyond.
If you are interested in our services or need more information, please do not hesitate to contact us. We are here to help you!